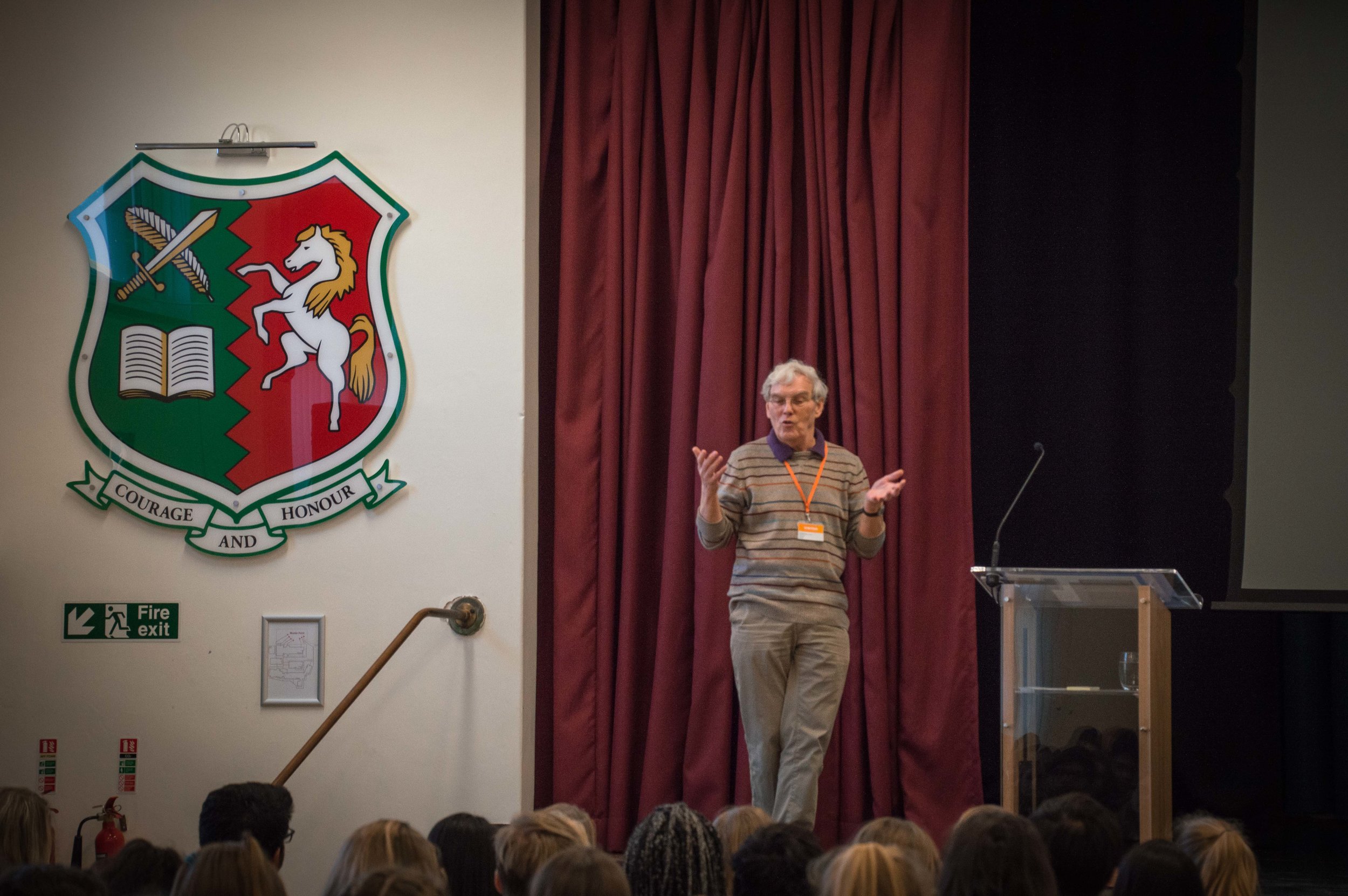 Nobel Prize Fever hit Tonbridge Grammar School last Friday at a
presentation enjoyed by 170 students, including visitors from Sevenoaks
School, Weald Grammar School and West Kent College.
Richard Henderson was recently awarded the prestigious Nobel Prize
for Chemistry 2017, alongside Jacques Dubochet and Joachim Frank,
for a breakthrough in the field of cryo-electron microscopy (cryo-EM).
Richard gave an inspirational and diverse presentation showing how the
images captured of molecules have improved greatly in clarity over the
years as scientific techniques have developed. He spoke about the
various stages in his career, and highlighted other male and female
Nobel Laureates, and their contribution to Science.
At the end of the presentation, two roving microphones were taken into
the audience and Richard fielded questions from students. Questions
included "Once you have identified the structure of an illness, how
quickly can you develop a cure and make the medicine available?" and
"Do you worry that new scientific research could be used for ill
purposes?"
Richard has been honoured for his work in "developing cryo-electron
microscopy for the high-resolution structure determination of
biomolecules in solution." The technique enables us to see molecules in
living organisms far more clearly, and therefore track their behaviour
over time. This is expected to drive forward the development of
treatment for many diseases, for example, the Zika virus and
Alzheimer's disease.
Students and staff alike quickly warmed to a man of great intelligence,
who has achieved a great deal in his lifetime, and has an obvious
passion for encouraging young scientists. After the event, eager
students were allowed to hold an inscribed replica of Richard's Nobel
Prize medal. Richard revealed that the gold original is worth
approximately £6,000 and must be kept locked away at the University.
Picture by Juliet Pone.