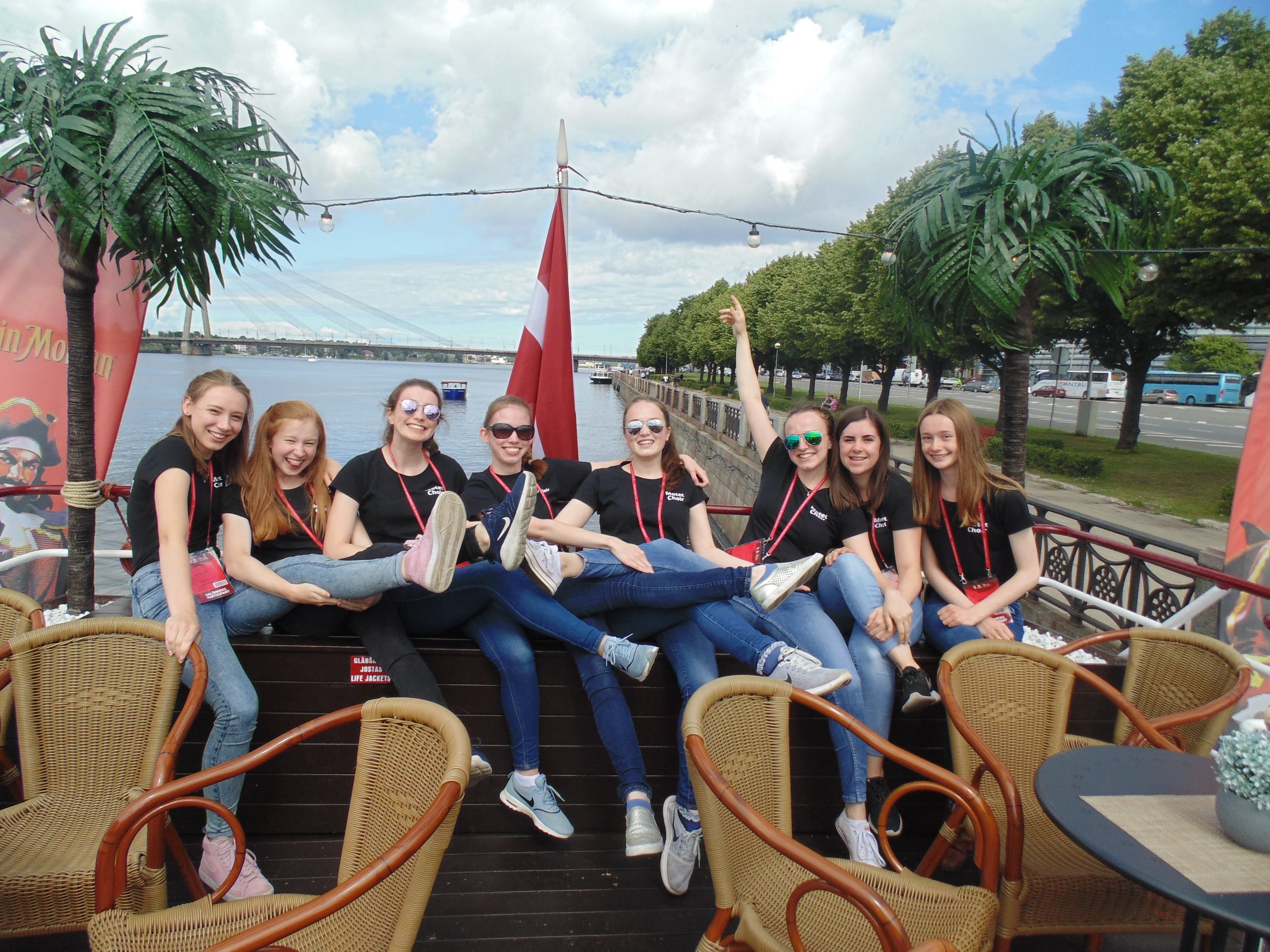 The Motet Choir of Tonbridge Grammar School returned triumphant from the 3rd European Choir Games in Latvia. More than 150 choirs with 10,000 singers, representing 39 nations have flocked in Riga this week for the Grand Prix of Nations Riga 2017 and the 3rd European Choir Games.
The Deakin Leas based choir of girls took part in the Open Competitions singing in the Youth Choir and Accompanied Sacred Music categories against choirs from Russia, China, Croatia and Latvia which has a fine choral tradition.
The girls, aged 14-18 years sang music from Great Britain as well as gospel songs, motets, and songs from Spain, the USA and South Africa.
The girls, under their director Adrian Pitts, were thrilled to win the Sacred Music open category. Their singing attracted large audiences at St Peter's 12th Century Church and the Ziedonis Concert Hall in the National Library of Latvia.
The 33-strong Tonbridge girls' choir's performances impressed the International Judges, who put them straight into the Champion of the European Choir Games 2017 competition in BOTH of the categories they entered. This competition level is normally open to European choirs with international competitive experience and/or comparable credentials.
TGS Motet Choir first performed in the competition in 2015 in Germany gaining a silver diploma, and is also attracting a following on the British Choral Music scene, being winners and repeated finalists in National competitions.
Their Champions' category performances were also to packed audiences, including other choirs from Choral Team GB including Cantamus Girls' Choir and Barnsley Youth Choir supporters.
"The TGS girls sang their hearts out" Choir director Adrian Pitts said. "I've run the choir for 25 years and these were superlative performances of our varied programmes of choral music in Latvia. The girls stepped it up a gear!"
The Awards Ceremony at the Grand Prix of Nations Riga 2017 and the 3rd European Choir Games was held on Wednesday at the Riga Arena streamed live to Europe. The Interkultur artistic committee made the awards, to a packed audience of over 10,000 people.
The TGS Motet Choir won a gold diploma for winning their Youth Choir Open Category performance, but also took the gold medal in the Youth Choir Champions' competition. The medals continued with a silver medal in the Sacred music Champions' category.
"It was like the Olympics – national anthems and flags!" director Adrian Pitts said.
Their success also means that they qualify at the Champion's level in future World and European Choir Games.
The Motet Choir is enjoying its summer break before another busy season singing next academic year including singing at Southwark Cathedral, making a CD and performing with Tonbridge Philharmonic at their Family Carols event again.